..too bad idaho isn't candy land. I would probably choose to live in chocoslovakia. Me and Addi get in fights over who gets to be Princess Frostine. I win. Hmph.

Really she wins,I am a softy! and she also got the game for Christmas this year, she just doesn't know it yet! We had to leave the bigger gifts at home in Cali to fit family gifts in the car. I feel bad that she thinks she didn't really get much for christmas but she has a surprise waiting for her!!

She did get the ONE thing that she has talked about for a month or so and asked Santa for a Blue SpArKly Barbie. And thats just what she got! Cinderella style!

Christmas was wonderful with both Brandon's and my families. It is so good to be back in Idaho. We like Cali and have a lot of great friends, but nothing is like home and clean fresh air. Yes, it is WAY colder. My body is in shock a little. Twin Falls has plenty of sunshine so it curbs the chills.

Bryce in his ChooChoo Jammas as jack calls them. Bryce has been so funny this trip. When we left he was still pretty young and has forgotten everyone. I know that this breaks my grandparents hearts!You can see the attitude in his face as grandma tries to sneak a kiss. He is especially anti-social with the male adults. Why? beats me, but he LoVeS all the younger aunts and uncles. Connor and Blake are his buddies. The only ones that he regularly goes to voluntarily and seeks them out. It tickles them to death!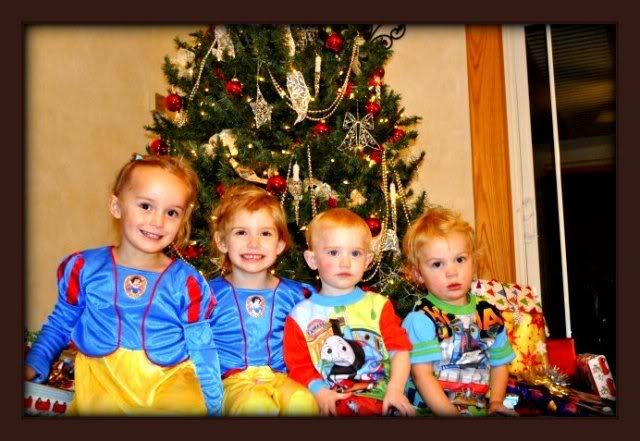 Christmas Eve Pajama party! Addi and Syd in their Snow White's and Jack and Bryce in their ChooChoo's.

The immediate family minus Andy who is in Aussie land. I tried to dr up this photo but I still look like a goober. Bedtime for sure!

Bryce enjoyed his stocking the most probably because of the candy and cars inside.
I really dont have much to say but that we had a great time hanging out with family and enjoyed their generousity! And of course I am thankful for the birth of our Savior. Heres a few other pics! Tomorrow we will be dressing the kids up in their christmas outfits!! More pictures to come!

Addison and her cousins (Brandon's sis's girls minus one) Christmas at Grandpa Nielsens.